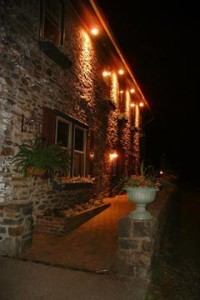 Built circa 1749 and nestled on 5 wooded acres in Upper Bucks County, the inn was a stagecoach stop for travelers making the 60 mile trek between The Lehigh Valley and Philadelphia.
On June 15th 1784, Micheal Stoneback humbly petitioned the Court at Newtown, PA to be recommended to the "Honorable Executive Council
for Lysence" to keep a House of Public Entertainment for travelers on Old Bethlehem Road. The petition states that, "in the Fall and Spring said road is exceeding bad which puts a number of travelers under the necessity of stopping at his house".  Furthermore, Stoneback's supporters in this petition attested that, "he is well provided with hay and pasture to keep a good house of public entertainment"

Old Bethlehem Road is said to have been one of the most traveled roads in colonial Bucks County. General's Washington and Lafayette traveled this road as they made the voyage up to Easton, PA to establish Lafayette College.
So while we can't say for sure "Washington slept here", we know that the innkeeper offered them a cask of lager to make the trip more enjoyable!