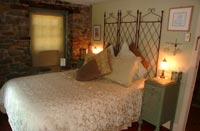 We know that spending the night away from home can make you miserable if the bed is not comfortable. This is not the way we want for you to think of our bed and breakfast inn when you leave out and head back home to your own bed. In fact, our goal is to make you as comfortable as possible during the time that you are with us. Here are just some of the ways that we provide comfort when you are away from home and your own bed.
We Asked for Opinions Years Ago
When we first opened up our bed and breakfast, we had several guests come to visit us. One of the questions we asked them was, "Overall, how was their stay?" Our guests loved every part of their stay with us, but as with other overnight retreats, they felt that the beds could have been more comfortable for them. That was their biggest issue. They would rave about the food and the beauty of the inn, the grounds, and all other aspects.
At this time, we decided that if we wanted people to be willing to leave their beds at home, we would have to improve our own. So, we did a little more asking around to find out what others felt would make their beds more comfortable. Did they want a hard bed, a soft one, a larger one, or what? Then we researched with stores that sold mattresses to find out what most people would buy. We found a selection that we felt would work better, and the results have been great since then.
Guests Love Our Bedroom Sets
We provided our guests with larger beds. They are beds that are not too soft nor too firm. They seem to provide the right amount of comfort to our guests. We then topped that off with high quality sheets and comforters so that our guests would never feel like they were staying in a motel. We offer several pillows for you to rest your head on, each of them are in great condition so that you do not feel as though your head needs more support.
After we upgraded the sleeping area of our rooms, we once again began to ask others what they thought of sleeping with us. We were amazed that people began saying that they felt like they were at home on their own beds, if not more comfortable than in their own bedrooms. We were excited and knew that we were onto something great for our guests.
We Have Continued with Improving Your Comfort Level
We are a bed and breakfast. We want to provide our guests with a lot of comfort during the time that they stay with us. We do it because we want them to return. Each guest is an extension of our own family and we want them to tell their family back home about the great time they had with us. If a bed can make the difference between good and great, we will do what we have to do. Our beds are changed out often so that they do not sag. They are cleaned thoroughly each time a guest leaves and if you have any problem at all, we will do what we can at that time to improve your stay, even if it means moving you to a new room and bed.